"a true breakthrough
in skin health"

~ special offer ~
Meet the new advancement in HydraFacial technology - the ReGen GF Booster!
We all want to feel fabulous yet with factors like lifestyle habits, sun, dirt and age, skin can be left feeling dehydrated. 
Meet the new advancement in Regular HydraFacials can help to combat drab feeling skin thanks to their patented technology.
And now HydraFacial have launched their new booster product ReGen GF.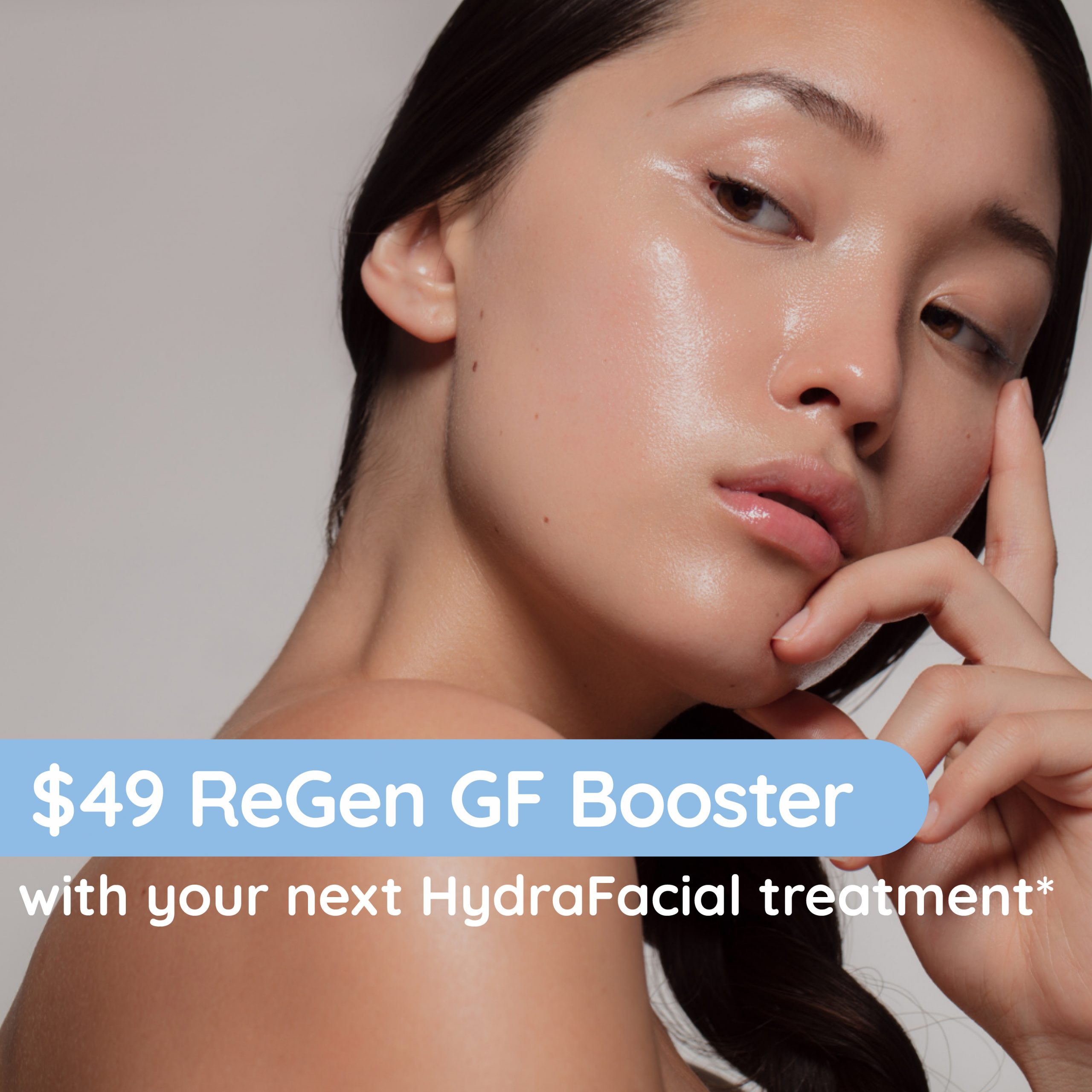 "...the unique combination of regenerative peptides in ReGen GF with M-007 delivery technology represents a true breakthrough in skin health."
Clint Carnell, Chief Executive Officer at The HydraFacial Company
This booster contains a proprietary blend of next generation growth factor-mimicking peptides that combined with a HydraFacial treatment can: 
Produce collagen and elastin to maintain the appearance of healthy, youthful skin 
Regenerate healthy-looking skin by accelerating wound healing and skin repair
Treat inflammation while boosting the growth of collagen-producing tissues
Help skin cells flush toxins while enhancing the appearance of firmness
Address the signs of aging by managing the formation of free radicals
Promote collagen synthesis
Further hydrates the skin.
And as the first growth factor booster available worldwide, this is a groundbreaking addition to the HydraFacial booster range. And you can be one of the first to try it. For a limited time, while stocks last!
So why add ReGen GF to your HydraFacial?
When you add the ReGen GF booster to your HydraFacial treatment you give your skin the Gold Class treatment. It's that little extra something that takes you to the next level, accelerating the effects so you see results sooner.  
Book in with our amazing Aesthetic Nurse Sharon to see the results for yourself.
You can be one of the first to try it for only $49 when you book your next HydraFacial with Sharon.
Hurry - boosters are very limited. Call us on (08) 9286 9900 to claim.