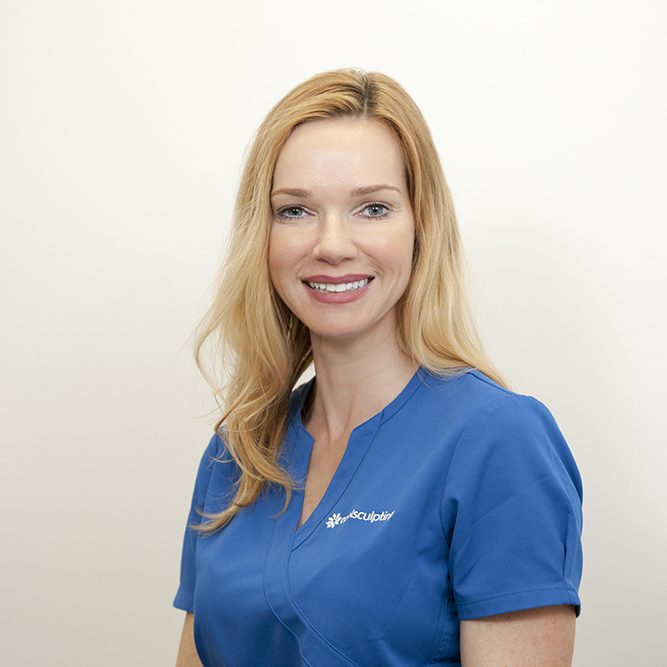 Ailsa Simpson


Practice & Cosmetic Nurse Consultant, Anti-Aging Specialist.

Wellness Aesthetitian
"To help my patients travel smoothly and joyfully on their life's journey is massively satisfying. It's awesome to be such a part of helping others feel more confident in their own skin."
The hugely rewarding feeling of seeing a client walk out that little bit more confident is the reason Ailsa finds so much fulfilment in her job. Whether she's performing refreshing and rejuvenating skin treatments, skillfully administering dermal fillers, or helping you reach your body goals through CoolSculpting, her nursing philosophy is rooted in helping you look and feel good.
With so many strings to her bow, her role diversity and extensive experience benefits each individual that walks through her door. This is because there's no one single recipe to suit every person. It takes an advanced knowledge of different skin types, body types, health predispositions and lifestyles to attend to your specific needs. The care undertaken in understanding your health history helps Ailsa to carefully map out personal treatment plans, addressing what's best for you and any concerns you have.
Ailsa's attention to detail, her caring disposition and straight shooting (but always kind!) honesty has garnered the trust of everyone she sees. Her clients know they can ask her anything. They also know that she'll point them in the right direction to achieve the most natural and effective outcome. An appointment with Ailsa becomes an experience. She gets to know her clients well, checks in to make sure they're happy with their treatment plan and results, and always brings a smiling, positive outlook into every appointment. These little touches are her way of giving something back to you.
acne solutions
facials
chemical peels
fillers
fillers – reconstructive aesthetics
melasma (non-laser treatments)
microneedling
omnilux (led light)
liquid face lift (sculptra)
visia (skin analysis)
vitamin therapy (mesotherapy)
wrinkle relaxers
coolsculpting
velashape
hydrafacials
aquagold
qualifications & training
Allergan – Certification in Dermal
Fillers & Wrinkle Relaxers
Galderma – Certification in Dermal Fillers & Wrinkle Relaxers
Galderma – Annual Master Training Sessions (Advanced Injector)
Peggy Chu – Life Coach Course
CoolSculpting Training
VelaShape Training
sign up to our newsletter to receive information on our services and upcoming deals.